Crushed Rock, Sand, And Gravel
Introducing in 2019, a new loading system to speed up efficiency and increase safety in our yard. We added nearly a dozen new bins holding our most popular aggregates right upfront. And, as always, we offer yard pick up or job site delivery for all of our aggregates.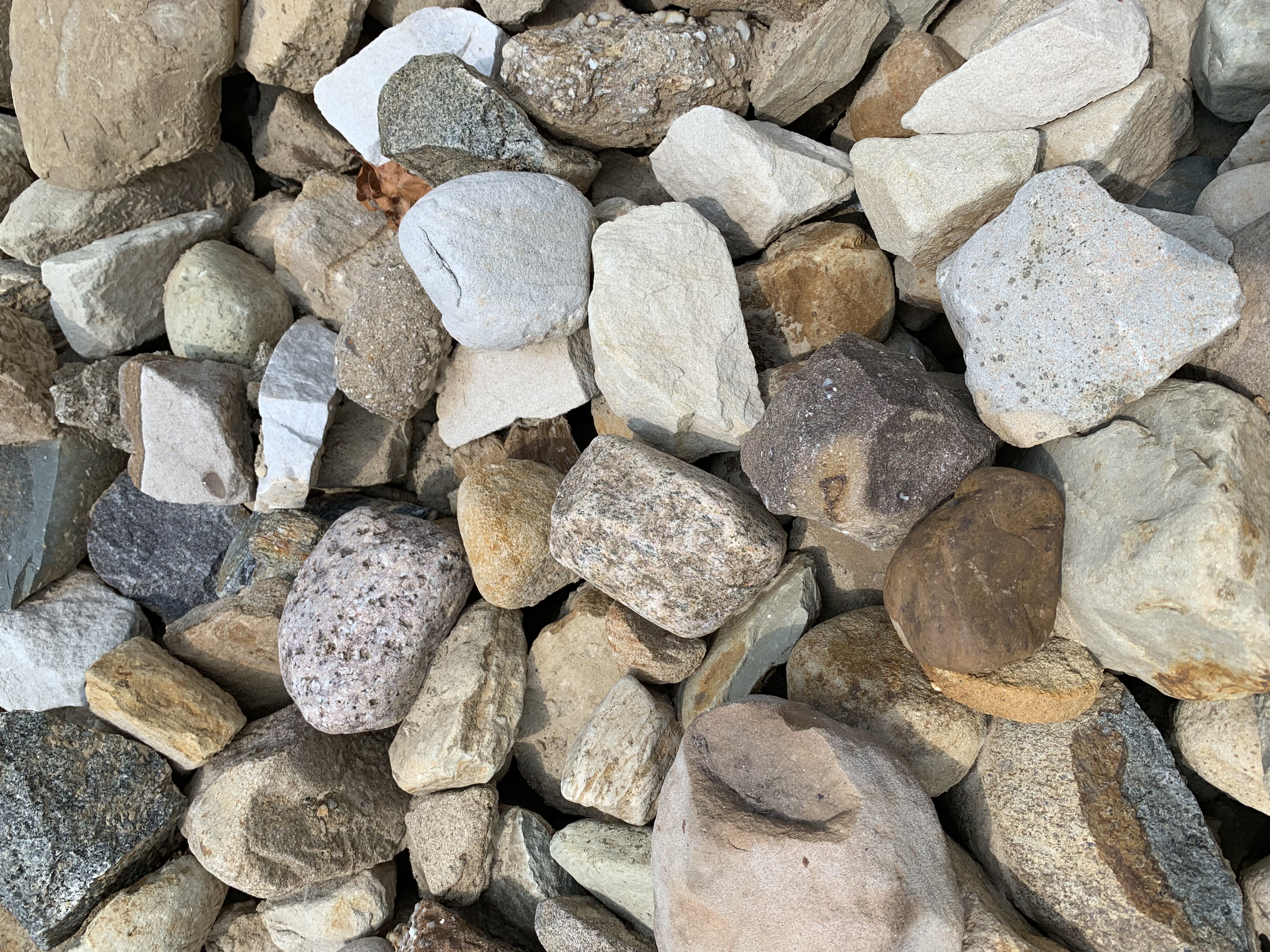 #1 & #2 River Gravel: The largest of our decorative stones, these are great for lining landscape beds, large architectural beds, and can be used as wall stone with mortar.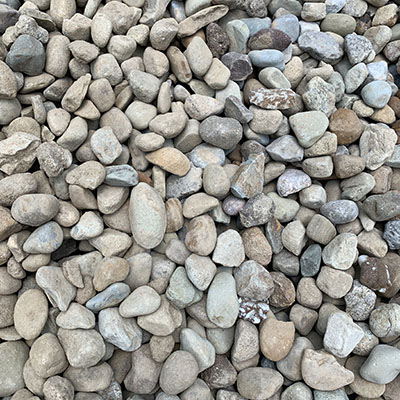 #3 River Gravel: Often referred to as #34, the most popular for landscape beds, they are easy to work with but large enough to make a statement.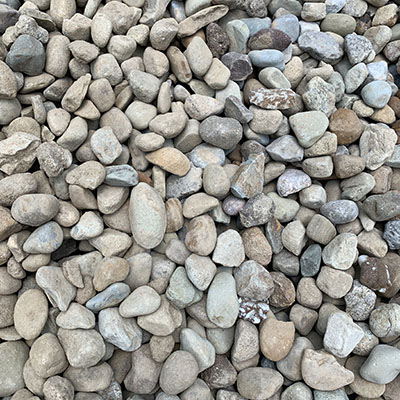 #57 River Gravel: Used as an alternative to #57 limestone in certain applications, some commercial and residential jobs are required to use this material by the city's engineers.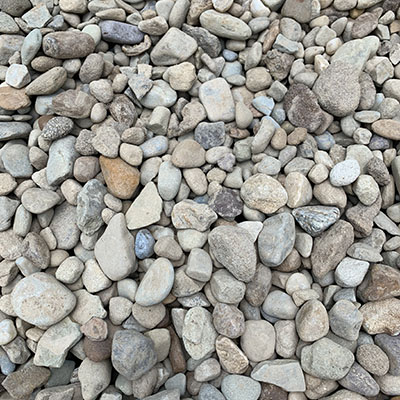 #8 River Gravel: Often called "pea-size", the smallest of our decorative river gravel is used in decorative concrete and landscape applications.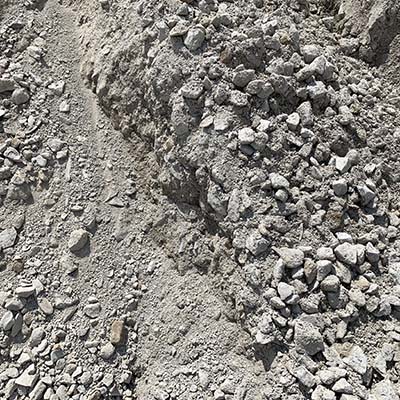 Crushed Concrete: Help us help the environment. As contractors tear out and replace existing concrete driveways, roadways, and parking lots, we provide a place for them to dump in an environmentally friendly manner. We then process the material to create Recycled #304 and Recycled #1 and #2's. At about half the price of regular limestone and a third of the price of decorative concrete, it can be a cost-effective way for backfill and site preparations. Not recommended for driveways or vehicular traffic.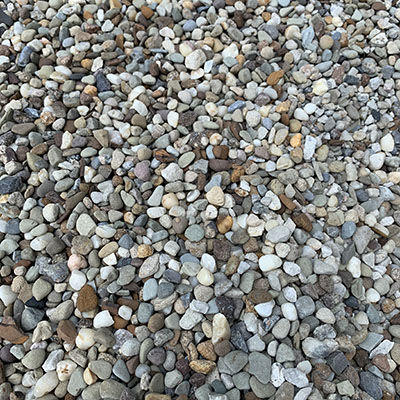 #8 and #57 Silica Gravel: Similar to River Gravel, Silica Gravel is the same respective size and color variety but looks polished. Used predominately in decorative concrete, it can be used anywhere river gravel would be appropriate with a little more pizzazz. Landscaping beds is one of our favorite applications.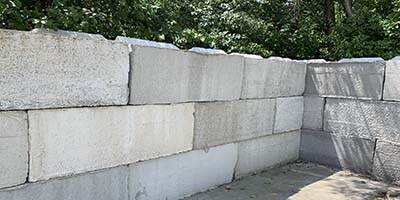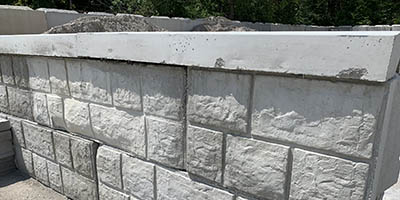 Erosion Cubes
Erosion cubes are manufactured out of remaining concrete. Both environmentally friendly and economical, erosion cubes can be used for retaining walls (in certain applications), building commercial storage bins, or on the lakefront to aid in erosion control. Subject to availability, two sizes available 2'x2'6' and 2'x2'x3'.

 

Decorative erosion cubes available as well as caps for a polished finish.
Stone, sand and gravel are essential components in the building of our cities and towns and the transportation networks that connect them. These materials also play key roles in agriculture, landscaping and storm water management. At Consumers Builders Supply, we provide top-quality aggregate materials for projects of every scope and size.
Working with strategically located quarries, pits, depots, and recycling centers in Ohio, we deliver high quality aggregates for a variety of uses.
Our aggregate materials are available for a wide range of construction and industrial needs, functioning as:
Base materials for roadways, walkways, railroads, parking lots and airport runways
Raw materials for creation of ready-mixed concrete, asphalt, precast pipe, concrete blocks, cement, and other building components
Large rip rap sizes for bank/slope stabilization, erosion control, and shoreline armoring
Landscape materials, both functional and decorative
Essentials in water filtration and purification systems
Our aggregate products include:
#4 Structural Backfill
#57 Limestone
#8 Gravel / Washed / State Approved
# 11 Stone / State Approved
#304 Limestone
Crushed/Recycled Concrete Stone #304
Crushed/Recycled Concrete Stone #1's & 2's
Decorative Gravel (#8, #57, #3)
Mason Sand
Concrete Sand
Silica Sand (bulk & bagged)
Aggregate products are distributed through our network across Northern Ohio. For pricing, sizing, and quality information please contact Charlie Houdeshell at (440) 277-9305.